Details of Temporary closure
Covid-19 update
Due to the Covid-19 pandemic and the government guidelines to self isolate and social distancing we have temporarily closed Podiatry @Twenty1 as of Monday 23rd March.
We are monitoring the situation daily and staying up to date with guidelines from the government, NHS England and our regulatory bodies. We do not wish to compromise any of our clients health and well being.
We hope you are all keeping well and active.
If you need to contact us for any foot care advice/emergencies, or if you are in isolation, and just need someone to talk to, we will always be here for your support. Tel: 07468 588311
Thank you for your patience and we will all get through this!
Please stay safe and keep well.
Regards from Pam and Justin
---
Corns and callus removal, cracked heels
We use a scalpel to enucleate the central core or nucleus of very hard skin that is the corn, debride and reduce built up thick skin and fissured heels and smooth rough skin.
Nail deformities
We have a nail drill which we can use to reduce thickened nails that are fungal or have been damaged. Psoriatic nails can be often confused with fungal nails, so a podiatrist will be able to help diagnose and advise you on the best course of treatment.
In growing toe nails
These can be treated conservatively or we can refer on if nail surgery is required.
Other treatments
Diabetic Annual Reviews include a Doppler and Monofilament Testing to assess circulation and sensation of the foot.
We offer foot health advice about chilblains, footwear, heel pain, sweaty feet, vascular disease, verrucae, wound care, gout, athletes foot, blisters.
Warm Wax Therapy Treatment
Paraffin wax heat therapy increases blood flow, tolerance for pain, relaxes muscles and increases hydration in the skin. Intended to moisturise and soften the skin while providing a therapeutic and healing effect to sore and aching joints. Making it particularly beneficial for those suffering from arthritis and rheumatic pain.
Upgrade your podiatry treatment and experience this!
Prices:
Warm Wax Therapy £29
Podiatry & Warm Wax Therapy £47 (saving £5)
Podiatry & Warm Wax Therapy & Dr's Remedy Nail Polish £59
Dr's Remedy Nail Polish (base coat, colour, top coat) £12 add on to your Podiatry or Warm Wax Therapy
Treat your friends and loved ones with a Podiatry@Twenty1 gift voucher, for any of the above.
Podiatry prices
Clinic appointments are £23, home visits are £28.
We accept credit and debit card payments via contactless or chip and pin.
Gift vouchers are now available.
We also sell various foot care products, just ask us for more details.
What is Podiatry?
Podiatry (or Chiropody) is the diagnosis and treatment of diseases and disorders of the feet.
Podiatrists can relieve pain, and help to keep people mobile and maintain or improve their quality of life. By visiting your Podiatrist regularly you can prevent problems before they occur.
Podiatrists are professionals registered by the Health and Care Professionals Council (HCPC) and will have undertaken and passed a degree in Podiatry. You can check your Podiatrist is registered by visiting their website.
We are members of The College of Podiatry. We also attend annual conferences and regular courses to maintain our skills and knowledge for our continual professional development.

Who we sponsor
Podiatry@Twenty1 are proud sponsors of Pretoria FC.

Forgotten Feet charity
We have donated 10% from all podiatry treatments throughout November plus donations from our very generous clients, which have helped raise an amazing £521 towards Forgotten Feet.
This is a free foot care service providing podiatry treatments and footwear for the homeless,  vulnerable and socially isolated community in easily accessible venues.
Opening times
We're located in Twenty1 hairdressers on Church Street, Westhoughton, and practice in a ground floor clinic. We offer home visits to people who struggle to get to us. At Podiatry@Twenty1 we provide a high standard of foot care in a caring and friendly environment.
| Day | Opening times |
| --- | --- |
| Monday | 9.00am to 2.00pm |
| Tuesday | 9.00am to 3.00pm |
| Wednesday | 9.00am to 3.00pm |
| Thursday | 9.00am to 6.30pm |
| Friday | Closed |
| Saturday | 8.00am to 1.00pm |
| Sunday | Closed |
How to find us
Meet Pam and Justin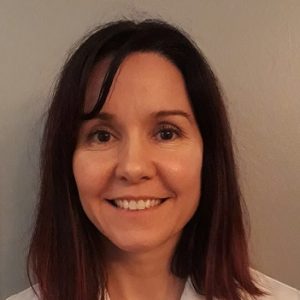 Pam Booth
Podiatrist Bsc (Hons) MChS
I come from a family of Podiatrists and qualified in 1996. My sister, husband and I took over the family business in 1996 when we qualified. Until recently I worked part-time for the NHS as a Podiatry specialist in wound care. I now work full time at Podiatry@Twenty1.
Justin Booth
Podiatrist Bsc (Hons) MChS
I qualified in 1996 and work part-time for the NHS assessing and treating patients and performing diabetic annual reviews. I also work in a hospital managing ulcer treatments and treat homeless people in the community. I work at Podiatry@Twenty1 on Mondays.